..
Mineral Speciments:
Gemstone Rough
About Us
Link Page
Home / Index Page
Click here to send us an email ORDER.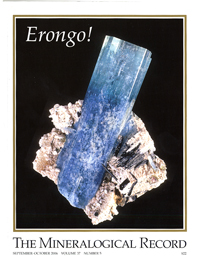 .
We specialise in Namibian Specimens
and Gemstone Facet & Cab Rough for sale.
We are mining and hunting specimens all the time. If you want something special; just send me and email.
We understand faceting material from Namibia (Tourmaline, demantoid, etc.), very well.
Hobby faceters / cutters, private collectors and dealers welcome to contact us for further information.
Due to a changing inventry more information on request.
We do have photo-lab facilities, etc.
Follow us here for daily updates:

Click here to send me request or comment.
How can we help you find that special item.


Have a look at our mining videos on YouTube.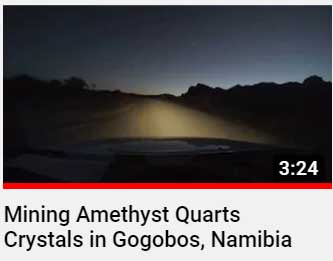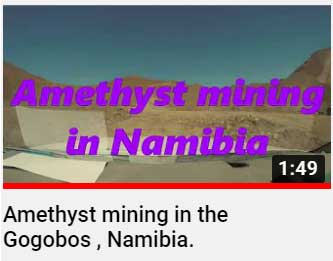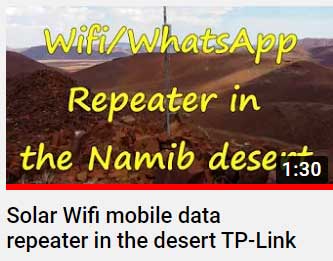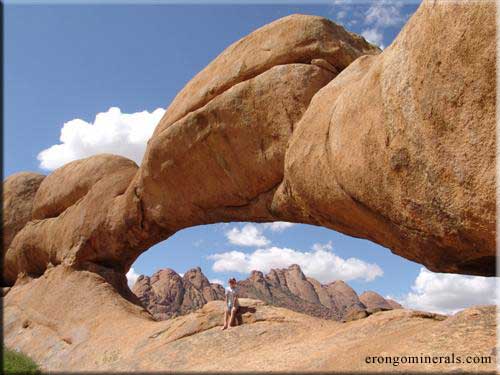 NEWS: (New on top)
Small miners are being hit hard, as they cannot sell their stones.
Covid-19 is slowing down everything.
Gogobos still producing fine crystals.
Mining in the Kaokoveld slowed down.
We had some rains so the guys are back digging.
Jeremejevite discovered November 2018
Fluorite and beryl.
Very nice Aquamarine pocket. Should see some on the Denver Show.
White Beryl and black tourmaline comming.
Gogoboseb production slowing down. A lot of small miners will be going away during December.
Some nice Aquamarine and Fluorite coming out.
Gogobos also strong production.
Small blueish Topas from Erongo comming out with quarts and feldspar. Locals tell people its phenakite - NOT!
The drought forced some locals to look for income mining. Production is up.
Heavy rains keeps filling the mines and production slowed down.
A small pocket of purple and white fluorite was found.
It's very dry and the small miners have to take a lot of water with them. Making digging slow.
Kaokofeld is very quiet, with tribalism playing a role.
With all the more easy holes being mined already, the guys need tools, So, if you want to donate old tools and equipment, please contact me.
Demantoid mining also slowed down.
Click here for Springbok Photo Stitch.
Hardness:


Talc
Gypsum
Calcite
Fluorite
Apatite
Feldspar
Quartz, Tourmaline
Topaz
Corundum
Diamond

Birthstones:

January - Garnet
February - Amethyst
March - Aquamarine
April - Diamond
May - Emerald
June - Pearl
July - Ruby
August - Peridot
September - Sapphire
October - Opal
November - Topaz
December - Turquoise
Other information:
Last update: 14 March 02021
Telephone numbers are NOT on the internet due to
the high number of Nigerian 419 Scams. I will supply it
via an email if you need it.
Prices are subject to change.
Prices in US$.
Minumum order is US$100-00.
We work on a first come first serve basis.
Payment Before Delivery.